THE MOST EFFECTIVE FIRE EXTINGUISHER IS MADE FROM PLANTS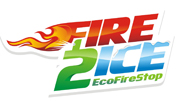 VIRGO proudly presents one of the most revolutionary Fire extinguisher system for personal protection and safety: Fire2Ice
What is the secret of this cutting-edge water soluble fire extinguishing agent? Besides having high performance of fire extinguishing capability, its neutral PH value and use of nontoxic natural ingredients have contributed to the fact that it will not cause any destruction or hazard to the earth and human body.
Compared to existing products Fire2Ice - improves efficiency with speed, saves critical time by 2/3 and saves cost by 2/3.

The main ingredients of this water soluble fine bubble fire extinguishing agent is based primarily on natural plant cellulose, which will convert to organic fertilizer after the biological degradation process when it falls into the soil and meets with germs. At present, it is the most environmentally friendly firefighting compound that can be treated afterwards with great convenience.

The main features of this highly effective product include "quick fire extinguishing", "fast heat reducing", "non-recombustible" and "environmentally friendly". Because of its good water retaining feature, which enables quick heat reduction on the burning object, and reduces the chance of repeat combustion, it significantly reduces lethal toxic smoke, reduces the area in flame, and reduces loss to property and human life.
Fire2Ice - MAIN BENEFITS
Reduces core fire temperature instantaneously
Up to 200% or faster in extinguishing flames compared to similar products on the market.
Inherent fire retardant properties to stop fires reigniting.

Low pressure canister, that will withstand temperatures of over 80 degrees Celsius without effect.

Non-corrosive, 100% toxic free & biodegradable.

PH neutral, will not harm if sprayed on skin and does not leave any residues or waste.

Safe working range from 3.5m

Patented product and SGS approved


APPLICATIONS

Buildings and public places
Community firefighting system
Industrial facility fire extinguishing system
Building fire extinguishing systems
Application to special facilities

Application to special environment
Application to special carriers
Ocean liner / Cargo ship firefighting

Further Applications


VIRGO is a leading global partner for distributing Fire2Ice worldwide.